【Career Seminar 2021】 For Int'l Talents Seeking Employment with Taiwan!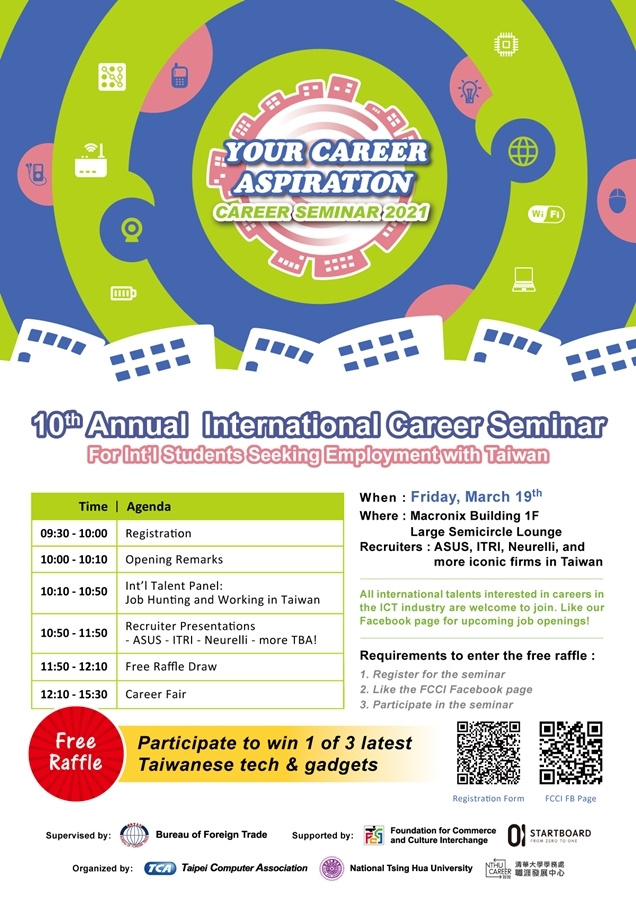 Career Seminar 2021 is back at the NTHU, partnered startup incubator STARTBOARD for a comprehensive job search event!
This year, the recruiters include returning companies ASUS, ITRI, and new companies Neurelli and New Favor. These recruiters will be presenting on their open positions, and setting up booths to take your resume.
Additionally, there's an International Talents Panel, where panelists from STARTBOARD and ASUS will share their experiences and tips for job searching/working in Taiwan, and answer any question you may have!
Whether you're job searching, or just want to network with these companies, all are welcome to attend!
See you March 19, 10:00-15:30 at the Macronix Building!
Please see poster for more information.
Register here: https://forms.gle/RPVDgAdQe2B2HwzaA
*Seating available only to the first 75 attendees, who will be notified via email. A Webex Meetings link will be available to everyone else.
*Agenda items and attendance capacity subject to change due to COVID-19
Registration Form || FCCI FB Page